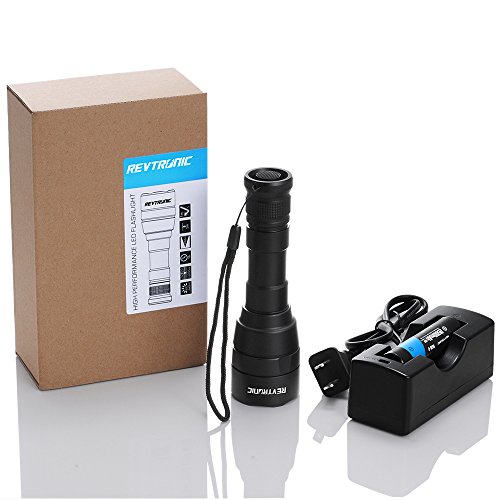 If you are looking for cheap, waterproof, durable, long beam distance, ultra powerful flashlight, then read this Revtronic F30B review and know details about Revtronic flashlight functionality. No matter if you are a security guard or law enforcement member or outdoor enthusiast or common people; you have to understand the real value of a good quality flashlight. Now, the market is overcrowded with a so called flashlight. It is easy to find a so called flashlight for buying, but it is very difficult to find the best flashlight at cheap price.
Key features of Revtronic F30B flashlight:
Low price
high lumens
waterproof
durability
18650 Battery includes
Five modes
money back guarantee
Best affordable flashlight with high lumens:
What is lumen? According to Wikipedia "A measure of the total quantity of visible light emitted by a source(here source is flashlight)".  Simply high lumens means that you have powerful battery and powerful LED which will produce a lot of light. Revtronic F30B have ultra powerful 800 lumens output and it has tested maintain ANSI standard. Under 30 dollars 800 lumens powerful flashlight is not easily to found in the market. Thus, Revtronic flashlight is one of the best cheap flashlight on amazon.
Five modes flashlight:
Revtronic F30B have 5 select-able modes that mean you can change your flashlight power just switching the mode of the light. General 3 modes details:
Low = 80 Lumens (will run 10 Hours ).
Medium = 400 Lumens ( will run 2 hours ).
High = 800 Lumens ( will run 1 hours ).
There is also available Strobe mode and SOS mode.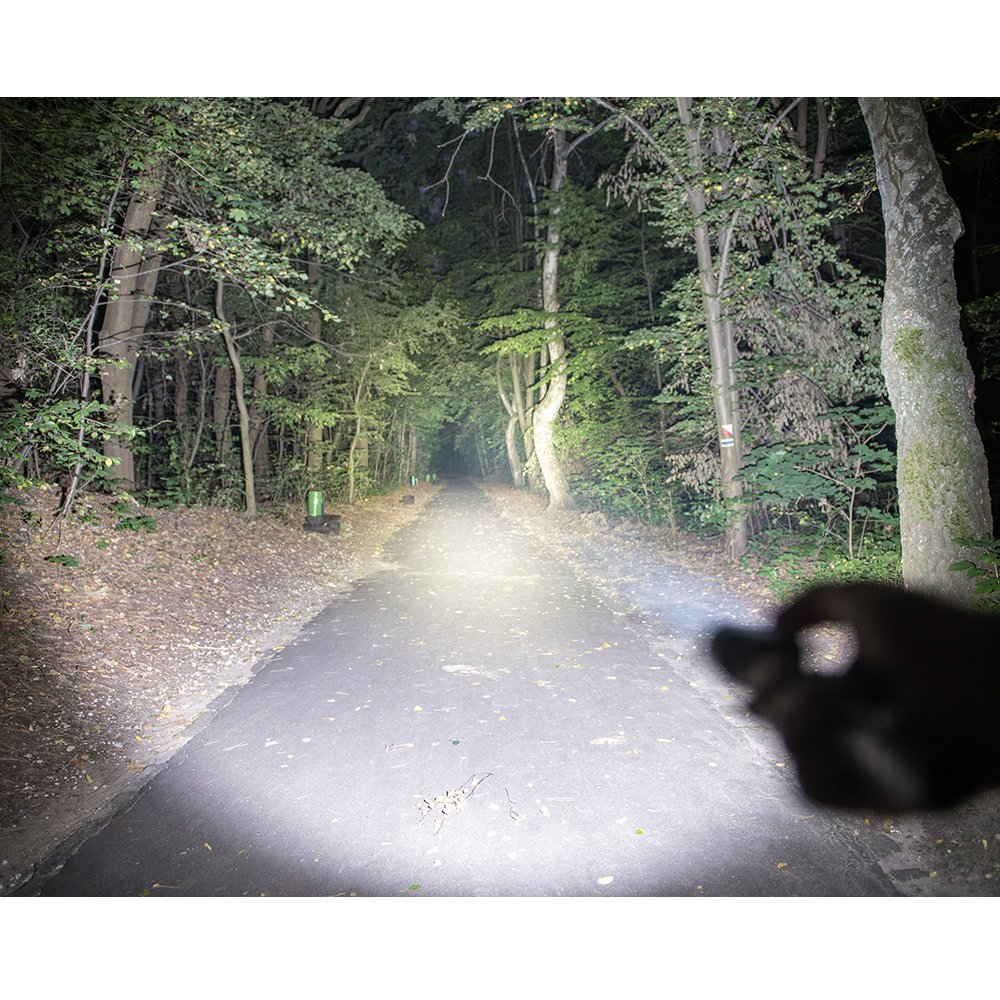 High beam distance flashlight:
If you have used any other flashlight, then you might have experience about beam distance. A lot of flashlights have high power, but beam distance is too poor or short. However, Revtronic F30B flashlight has a smooth reflector which makes sure ultra long beam distance.
Durable flashlight:
Plastic body flashlight easily can break. Your flashlight should be strong enough to sustain any kind toss situation. Because you could let down your flashlight lot of time and naturally, it could happen. Revtronic F30B build with a high aluminum alloy which makes the flashlight high impact resistant and corrosion proof.
Best Waterproof tactical flashlight:
You would not like to carry a flashlight which could damage just touching with water. The Revtronic F30B light was tested underwater (1 meter underwater distance from the surface) for 30 minutes. It survives because it is maintained IPX-7 waterproof standard.
3.7v 18650 rechargeable battery

 includes:
It is the biggest plus point of Revtronic PREMIUM LED Flashlight. Do you know a lot of flashlight do not include batteries with a flashlight. You need to purchase batteries for using on other flashlights. But the good news is that Revtronic F30B will provide powerful 18650 rechargeable battery with the flashlight. This is high capacity 18650 Lithium ion batteries and  maximum run time over 10 hours.
Inside the Revtronic flashlight Box includes:
1x F30B Flashlight (Smart aluminum alloy design body).
1x 2600mAh 18650 Battery ( Measured Capacity ).
1x 4.2V 1A Charger (Yes, charger is included. Huge Benefit for you).
1x Carrying strap.
1x User manual.
Other Revtronic F30B features:
Revtronic F30B flashlight utilizes CREE XM-L2 Cool White LED bulb which ensure the led lifespan 50,000 hours. The Revtronic flashlight is CE and RoHS certified. Total flashlight weight is 5 ounces, power source battery with 3.7 volts and 10 watts.
Flashlight Warranty:
Revtronic company ensures that they are providing high quality flashlight. Thus, Revtronic  F30B flashlight has 30 days money back guarantee. And great deal is that they will give you 2 years warranty for repair or exchange.
My friend's thought:
I read and heard lots of positivity about the Revtronic F30B flashlight. As I said earlier that it is the brightest flashlight at the cheapest price. One of my colleague said it was his worth buying because he has gotten same kind brightness and functionality that Surefire or Streamlight brand give double even triple price.
I highly recommend this Revtronic F30B flashlight for all category people specially, who need a reliable source of light for a great price.