The light that I'm reviewing today is the ShadowHawk X800. I'm going to do a full review on the light, but if you've only got time for a very short review then I can hook you up. Here's the very short review.  "Save your money."
If you are looking for the best tactical flashlights, check out our Top 10 Best Tactical Flashlight Rankings.
The ShadowHawk X800 is just one of many iterations of the same flashlight that's been rebranded countless times by a company that's difficult to see in the background. The light is pretty much always the same and whatever iteration you find it in utilizes the same Cree LED. It's a Cree XLM T6, so it's capable of doing the advertised 800 lumens.  This is a decent amount of lumens but it is pretty dull compared to a 2000 lumen tactical flashlight. That's something good at least to say about the light. When you press the button it will actually light up and you will actually get a pretty bright beam out of it. The adjustable zoom feature works pretty well, so you do have some great range on it as well.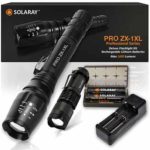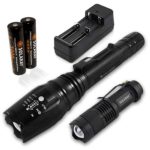 However, to call this in their advertising, "A military tactical flashlight," is put gently, way overselling it. This is not a light that would actually hold up very well in strenuous conditions. This is, first of all, not made out of the industry standard aircraft grade aluminum. This is made of some sort of much weaker grade of aluminum, which is apparent from the moment that you're holding it. Looks like it would bear up to problems being dropped better than your typical plastic flashlight that you might pick up from the grocery store. There's no way to tell also, just from looking how well it's going to hold up to impacts, because there's no impact resistance. The light is also marketed as being water resistant, but there's no IPX rating, so that seems like not much more than marketing.
Flashlight Beam
Sticking back to the beam, it's a very, very cool
light. It's very blue, so anything it shines on tends to have a blue sheen to it. Other than that though, no complaints directly on the beam itself, since that seems to work pretty fine. You've got your three modes of brightness.
You've got your maximum, your medium, and your low. Then you've got your strobe and your SOS. Everything that you would expect, all the standard brightness modes you would expect from a tactical flashlight.
Flashlight Switch
The flashlight is controlled with a single switch on the tail. There are no other controls for the light. The interface is pretty simple. When you click the light goes to whatever the next brightness setting on its rotation is.
You start on the very brightest setting, you turn it off and on, and you will get to the medium, turn it off and on again, low. You keep going you get through your strobe and your SOS.
That's not necessarily the most convenient way to access features like a strobe, which you're probably thinking that you're going to need to be able to access very fast in order for it to be an effective feature of a tactical flashlight. However, interfaces can be pricey, so if cost is a concern to you, then that's definitely a place where when you're paying for more on a flashlight that's part of what you're paying for. The exterior design of the light is sort of visible. As with all of these rebranded flashlights, there's a very distinctive collection of writing on the head, giving you the different magnifications that the zoom undergoes. Unfortunately, it's basically meaningless. It looks nice, but there's really nothing useful about this. I guess it's just to make it look more military. There is some indentation on the head, which gives it a little bit of anti-roll, which is nice.
Flashlight Bezel
There's a little bit of crenulation on the bezel. That way it could be used a little bit as a striking weapon if you wanted to try that in a self-defense situation. It looks like the material itself would at least hold up to those kinds of impacts. I would have some strong doubts about how well the light would function later if you were just to be hammering it down on someone or something. It does look like the aluminum alloy used in its construction and in the bezel's construction is at least capable of holding up to that. The light is not unpleasant to hold. It's got two very wide bands of pineapple texturing on the body, so it's pretty comfortable. Not too bad about slipping around a lot in your hand. The head widens out a little bit in the middle, so what you've got is very … It's very conveniently placed for your hand to adjust the zoom with just your thumb and forefinger. The single switch is set pretty deep in the tail cap, so it does have enough of a rim that you've got tail stand capability.
Flashlight Price
Ultimately, with a light like this, it comes down to a question of price. I think a lot of the marketing is misleading. If you Google ShadowHawk X800 you're going to find a lot of stories about some pretty bad customer service. A lot of people calling the light an outright scam. A lot of horror stories where people are having a lot of difficulty contacting the company, getting any customer service at all. It's not clear that the light comes with any kind of warranty, which is pretty standard as part of most tactical flashlight company's toolkit is … That's part of how they sell how tough and how reliable their flashlights are, is that they tell you that they're going to give you a great warranty and then the company will take care of the flashlight if anything goes wrong. There's really no guarantee like that behind the ShadowHawk Flashlight and that makes you really question whether you could depend on that company at all to help you.
Flashlight Company
Judging by a lot of what I'm reading on the internet about interacting with this company, or not being able to interact with the company really, it's not … This isn't something where you can really depend much on that. Bottom line, do I recommend the light? The answer is, no. I think the important thing about a tactical flashlight is you've got to know it's going to hold up under pressure and you've got to know that the company that made it is going to be able to stand by its product. The ShadowHawk is basically a big basket of red flags. You've got a company that's hard to track down, that is in the habit of frequently re-branding the exact same flashlight. Normally you'd think a company would want to build a name for the flashlight, get the logo, and get it out there, but it seems like this company gets hit with a lot of bad press and then they just sort of move on. The light is made of an inferior aluminum to what most tactical lights use. The beam is sort of ghastly and not really pleasant to have or to look at.

Flashlight Conclusion
It's certainly bright enough, but you don't know for how long considering you can't depend on this light to not get destroyed by water, or being dropped, or other issues. In other words, this light is more likely to have difficulties, but you're going to have a lot of problems contacting the manufacturer to get those problems fixed. Yes, it is a better value compared to some other lights, but part of what you're paying for when you're putting a little bit more money into these lights is decent customer service and a light that's tough enough that it won't break and just be gone on you. I would recommend if you've got to have a cheap LED light, look elsewhere. Look at keychain lights and other cheap vehicles for LED emitters, because if you buy the ShadowHawk X800 I think that the odds are pretty good that you're going to be disappointed.