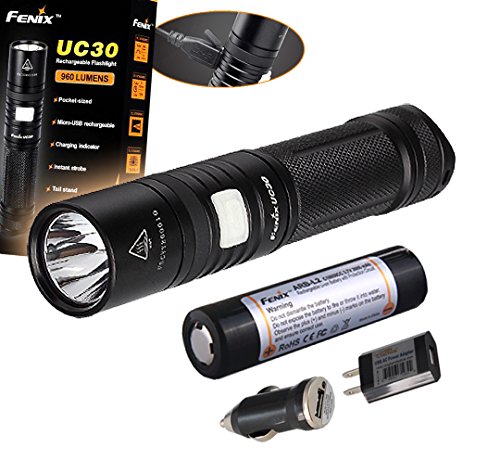 When it comes to tactical flashlights, Fenix is a trusted name. They have been manufacturing high-quality flashlights that look great and perform to perfection. The flashlight that I have for you today is the immensely popular Fenix UC30 review. It is a compact tactical flashlight that is loaded with features that will shame even the best, more expensive flashlights in this class.
The fenix UC30 is a very compact flashlight and comes with a host of goodies packaged into the box. It comes with a holster, a battery, a car and wall charger and, of course, a USB charging cable. With all these awesome freebies, it is difficult to pass this very attractive flashlight on. Let's take a look at why this flashlight has received such great reviews all round.
Fenix UC30 review –

UC30 video review
Fenix UC30 Review : Why this flashlight?
The Fenix UC30 is a flashlight that has an appeal to a wide variety of customers. It is as great for outdoor enthusiasts as it is for people who are looking for a backup flashlight for those days when the power goes out unexpectedly. It has enough power and versatility to cover a broad range of application and it does all that with great style.
UC30 main features
The UC30 is loaded with some spectacular features that make it one of the best flashlights in its class. The flashlight has some great features that are generally found on many expensive pieces. Let's take a look at some of the great features that this rechargeable flashlight has to offer.
1. Power of light
I always say that if you are going to buy a tactical flashlight, you can't skimp on power. The UC30 fits right into this definition by giving you all the power that you could ask from a small flashlight and then some. The powerful flashlight can throw a 960-lumen beam of light to a distance of amazing 223 yards. This is by no means a small feat. I love the amount of power that this flashlight can pack in.
2. Multiple modes of operation
Power is one thing, but if a tactical flashlight can't adapt to your illumination needs, it is pretty much worthless. Well, the Fenix UC30 delivers like a champ on this aspect. It has an impressive five modes of operation to suit all your illumination needs to perfection. It also has a strobe functionality that I personally like a lot. It can take you out of some tricky situations. The various modes of operation of this flashlight are:
Strobe function.
Low: 10 Lumens (120 hours).
Mid: 110 Lumens (11 hours).
High: 400 lumens (3 hours).
Turbo: 960 Lumens (1 hours and 10 minutes).
All these functional modes make the flashlight one of the most versatile flashlights on the market.
3. UC30 Great built quality
One thing that I really like in Fenix flashlights is their built quality. They are built with precision and are built to last. The uC30 does not disappoint on this front as well. It is made from aerospace grade aluminum that keeps the weight of the unit on the lower side while maintaining the strength and durability. I especially like the fact that the body of the flashlight has some nice grooves that make gripping the light very easy even in wet weather.
Another thing I like about the flashlight is that it is completely water resistant. I was able to use this flashlight in mild to moderate rainfall and it gave me no problem at all. It is a very reliable flashlight that does its job irrespective of what the weather is like outside.
4. Fenix Great accessories
Who doesn't like free stuff, right? Well, with this flashlight, you will be treated with a ton of free stuff. This flashlight comes with a complimentary holster that is just great. It also comes with a powerful 2600mAh rechargeable high capacity 18650 battery, a charger and a USB charging cable, A spare O-ring, a Lanyard and car adapter as well. Talk about value for money!
Additional features of uc30 led rechargeable flashlight
The flashlight has so many great features that will certainly make it one of your best flashlight purchases ever.
Cree XM-L2 LED technology: This is the latest in LED technology and the emitter has a lifespan of a whopping 50,000 hours. Once you get this flashlight, you will not have to buy another one for years!
Great optics: The UC30 has some serious power packed in and some great quality reflector and lenses to harness that raw power. The optics on this unit makes it an ideal companion to any camping excursion.
Multiple modes: As we saw earlier as well, the flashlight has multiple modes of operation that can be interchanged with the push of a button. The tactical side switch makes transitioning between the various modes very easy and reliable. It also has a momentary on switch for those emergencies.
Sturdy: The aerospace grade aluminum body makes the flashlight literally unbreakable. It is impact resistant up to 1.5 meters and I have dropped it from a much higher distance and it still is in one piece.
Batteries and charger included: The flashlight comes with the Fenix charger for 18650 batteries which make the charging quick and easy.
Pros:
Compact and lightweight; weighing just 2.7 ounces.
Bright with multiple modes of operation.
Sleek, pocket-friendly body with impact resistant aluminum casing.
Charging indicator and low voltage reminder.
Intelligent memory circuit.
Reverse polarity protection.
Cons:
The UC30 is a very well received flashlight. Not many people have had any serious issues with this flashlight. However, there are some concerns that keep popping here and there:
The tactical switch that is placed on the side of the flashlight sometimes turns while the flashlight is in your pocket. Although if you carry it in the holster, this issue solves itself. Although this is not that big an issue, but still worth a mention.
Conclusion
The Fenix UC30 is a great compact flashlight that is very easy to carry. Whether you are looking for a flashlight that you can take to your camping trips, hunting or walks around the block, this a flashlight that will not disappoint you. I would highly recommend this flashlight to anyone who is in the market for a great looking small flashlight that will not leave a dent in your bank account!
Additional Resources:
Fenix Flashlight Website