Why do a Klarus XT11GT Tactical Review?
zon.com/Klarus-Upgraded-Tactical-Rechargeable-Flashlight/dp/B01LW1R4E6?tag=flashguide07-20" target="_blank" rel="nofollow noopener noreferrer" data-cart="n" data-cloak="n" data-identifier="B01LW1R4E6" data-locale="US" data-localize="y" data-popups="n" data-tag="flashguide07-20">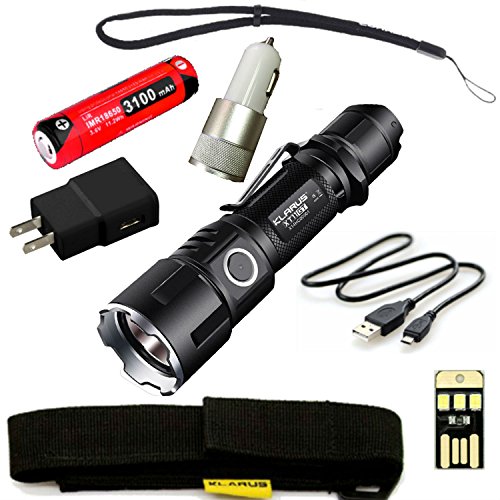 Klarus is a newer flashlight manufacturer that is rapidly growing in popularity for making incredibly durable, long-lasting, and innovative LED flashlights. Recently, Klarus has introduced new advanced tactical flashlights with programmable settings. The XT11GT is a flashlight that Klarus announced earlier this year and has some truly unique features. Considering all the goodies this flashlight comes with (we'll talk more about it later), this flashlight is definitely a bargain! So let's take a look at the features of this flashlight.
The Klarus XT11GT is a compact and lightweight flashlight that feels comfortable in your hands. It features a dual-tail switch and a side switch which, along with the programmable settings, makes this light quite versatile. If you prefer only using the dual-tail switch then you can use the lock-out function to prevent the side switch from activating. It also features several brightness levels and can be operated with a single hand. This flashlight is perfect for outdoor and tactical use, especially for law enforcement or hunting. However, it is also great if you just want take your dog for a walk at night. Regardless, this flashlight is meant to suit any need.
Klarus XT11GT Tactical Flashlight

Review
v style="background-color: black; height: 34px; width: 93.5%; position: absolute;">