I have used (and reviewed!) a number of so-called powerful flash lights over the years. I have seen many people brag about how insanely bright thesis lights are. I will admit that I had one 2000 lumen flashlight that I thought was seriously bright.
But all that was until about a week ago, when I got my hands on the PowerTac X3000 LED Flashlight. This very compact flashlight redefined brightness for me. I mean this thing is as bright as the sun! I usually an not very impressed when tactical flashlights are marketed as being 'very bright' as, more often than not, these don't live up to the hype.
PowerTac flashlight review –

X3000 video review
However, with the PowerTac X3000 LED Flashlight, I could not be any wrong! This light is super-bright pumping out 3000 lumens of light, and believe me, this not a joke.
I was completely floored by the brightness itself but if you take a close look at the other features the X3000 has to offer, you will want to have one right now!
So, without further adieu, lets dig into what else this beast has to offer. It truly is versatile.
The X3000 is made so compact and handy, that it is as suited for an outdoorsman as it is for any casual walker. The small and portable design makes it easy to carry around whether you are around the block or deep in the wilderness.
Also, with as many as six operation modes, it is ideal for any situation imaginable. You want a far reaching ultra bright beam, the X3000 is for you, you want a low beam for your stroll around the block, it is for you, if you want it for self protection, the X3000 is for you.
Not many flashlights are as versatile in their application as is this one.
Features of PowerTac X3000 lumen LED rechargeable flashlight review :

The X3000 is a high end device. It is packed full of just so many awesome features that it can put nay flashlight in its category to shame. Let us look at some of these features now!
1. Amazing Power
The X3000 is amazingly powerful. I mean it is by far the most powerful compact flashlight I have tested. Once you see the beam of 3000 lumens come out of this bad boy, you are speechless. The light is also capable to operate in multiple modes making it very versatile and useful. The X3000 can throw a beam unto a mind boggling distance of 400 yards, thats 4 football fields, amazing!
Also, with the CREE XM-L U2 LED technology at its center, you will not have to worry it burning for next 20 years or so. It is bright and it is long lasting, the definition of a great technology, isn't it?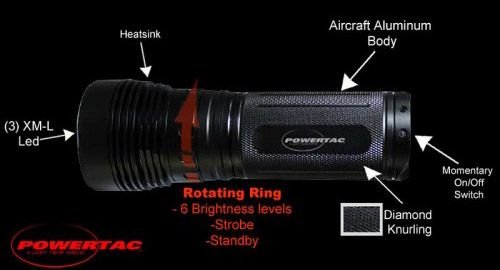 2. Multiple modes of operation and great user interface:
Power is one thing but a good flashlight needs to be a performer in multiple conditions of illumination requirements. The X3000 is equipped with as many as six power output settings from the super bright turbo to the economical mode to suit all your illumination needs.
The X3000 features a very unique user interface for changing between the various power settings. The very well designed and ergonomically placed circular ring switch enables the user to switch between the modes with ease. This is one of the most comfortable switches I have used. No more turning the cap to the things like that to cycle between the various modes. I think all the flashlight manufacturers should take a leaf from the X3000 to learn how to design a great UI.
3. Unbeatable build quality and a great design:
The super power and elegant UI of the X3000 is enclosed in a gorgeous design. The body is made from high grade anodized aluminum with a patterned finish. The grip is textured so that it wont slip out of your hand easily. The cap also features a textured finish. With just about 7 inches in length, it perfectly slips into you pocket or in a bag pack.
4. Awesome batteries included:
The X3000 come with three rechargeable CR123 batteries. A high quality charger is also included in the bundle. The specially designed rechargeable batteries are very quick to charge and have an impressive standby and operation time.
Specifications of PowerTac X3000 LED 3000 lumen tactical Flashlight:
Let us look at some specifications of the X3000 in a nutshell.
Cree XM-L2 (U2) LED technology: With three LED emitters, the X3000 produces one of the brightest beams of any flashlight. The ultra durable LED technology means that you will not have to worry about them burning out for as long as 50,000 hours of usage. That's easily gives you about 40 years!
Power: The turbo mode pumps out 3000 lumens of blinding light capable of reaching as far as 400 yards.
Multiple modes: The multiple modes of operation make the X3000 a very versatile performer.
Super compact and sturdy: The hand anodized aluminum body features an anticline grip and roll resistant cap.
Great Batteries: The included rechargeable 2600 mAh battery pack is powerful and of great quality.
Pros:
Very powerful.
Weight is very light.
Multiple modes means 6 modes of operations.
Compact design and aerospace grade anodized aluminum body.
Intelligent memory circuit.
Included batteries and charger.
Cons:
The cost may be on a higher side but once you buy the X3000, you will not have to buy any flashlight ever in your life!

PowerTac have quality but price is high! I cannot afford that 🙁 So, have you any other flashlight list which have high lumens but price is low?
Conclusion:
The X3000 is a great compact flashlight that is easily the best in its class. It is an investment that you should make if you want a quality product that is full of great features. Once you buy this flash light, I think you will not have to buy any more for the rest of your life, (Personally, I am using this from last 6 years) so go out and get one.